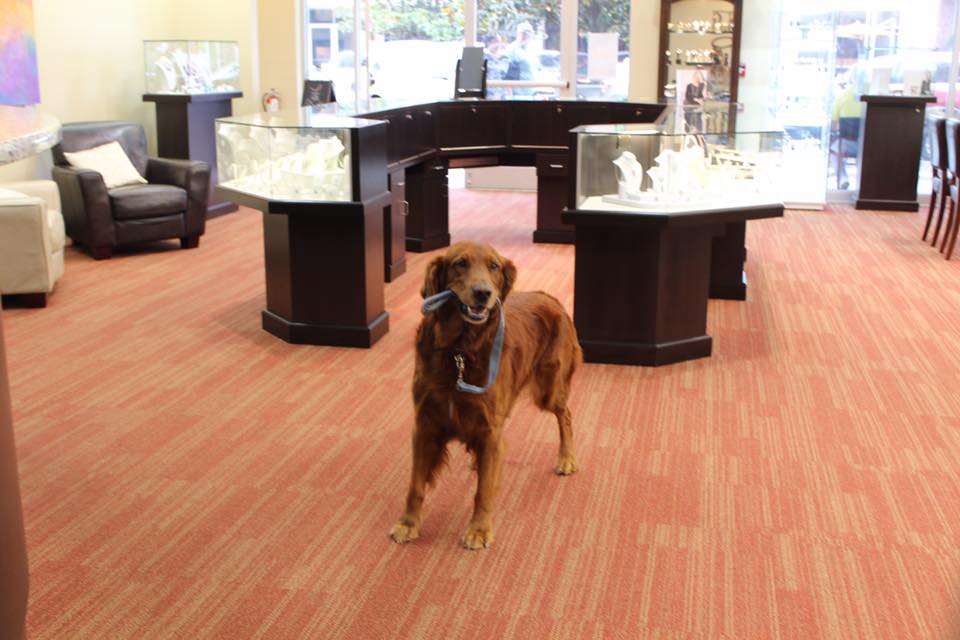 Our Store Mascot
This is Weiser. Weiser is a Kentucky Red Golden Retriever and he comes into see us in the store every morning. Weiser and his owner Tom sit at a table right in front of our store and enjoy some Starbucks and the Florida weather, rain or shine, every day. When we open up the store at 10:00am sharp we prop the doors open and call Weiser inside to get his treat. With the okay from Tom, Weiser picks up his leash and literally walks himself through the door and around the counter to his treat jar. Weiser then thank us with an excited bark that you can hear throughout the town center.  
Weiser loves stuffed animals, treats, Starbucks and of course shopping at Lang Jewelers. Weiser will be ten in October but in his younger days Tom would take Bud and Weiser his two golden retrievers to Shands hospital. There they would visit patients in the hospital and cheer them up. Bud passed away awhile back but Bud and Weiser were best friends. Bud and Weiser loved to visit hospital patients, while Bud was enjoying the attention Weiser was usually scouting the room for any stuffed animals lying around.
Weiser has become our store mascot in a sense, we constantly have customers ask about him and our customers that come in around ten o'clock  can almost always be sure to see Weiser out front or in our store. We always welcome dogs in our store and have dog treats on hand for any pup that wants one. We all love dogs and have our dogs of our own at home that we go home to after leaving the store. Matt and Stacy have a German Shepard named, Jasmine. Kelly has a Golden Retriever named, Maia, and Tori has a Collie named, Shiloh. (They are all pictured below) Come in anytime to say hello, shop and tell us about your pets. Or just bring them in so we can meet them and find treats for you and your pets!